Summary: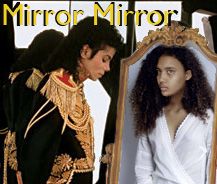 December 1994.
Michael Joe Jackson had not been seen in public for nearly a year following the child molestation allegations.
Ariana Elspeth Noble had just been fired from the job she could never see herself leaving.
Michael's name always popped up in the news in some way, shape or form. The media could not leave him alone.
Ariana was disgusted by the way the media slandered her idol's name.
Michael was hurting badly.
Ariana wanted nothing more than to help him.
*~*O*~*
Ariana had acquired an old, full length mirror that had been left behind by her apartment's former tenant.
Michael kept it's twin in his room.
With whispered vows of love and pleas for help, it seems that the universe chose to bring these two together in the most extraordinary of ways. Will they find what they both didn't realise they needed?
"Michael, maybe...maybe if you had asked for help, and I had...had offered it, perhaps us meeting the way we did wasn't just some cheap trick."
Categories:
Hurt/Comfort
,
Adult
,
Angst
,
Trigger Warning!
Characters:
Michael
,
Original Girl
General Warnings:
None
Trigger Warnings:
Domestic Abuse
,
Alcohol Abuse
,
Drug Abuse
,
Anorexia
,
Emotional Abuse
,
Rape
,
Self-Harm
Series:
None
Chapters:
2
Table of Contents
Completed:
No
Word count:
3894
Read Count:
195