Summary: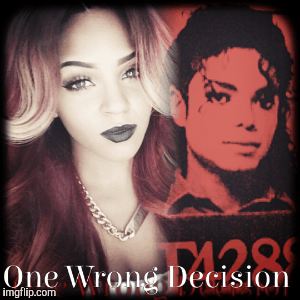 All it took was one simple decision.
One word that ruined her whole life.
All it took was a simple "Yes" and life as she knew it had been ripped away from her.
Now she has nothing to live for.
She lives in fear, pain and torture.
All because she said one word.
That, was her One Wrong Decision
This story is gonna be very dark, and Michael is very AU in this story, so if you can't handle a change with his personality, I suggest a different, more happy story.
Categories:
Bad: 1986-1990
Characters:
Michael
,
Original Girl
General Warnings:
Graphic Depictions of Violence
,
Some Scenes of an Explicit Sexual Nature
,
Strong Language
Trigger Warnings:
Death
,
Domestic Abuse
,
Kidnapping
,
Rape
Series:
None
Chapters:
5
Table of Contents
Completed:
No
Word count:
13685
Read Count:
402